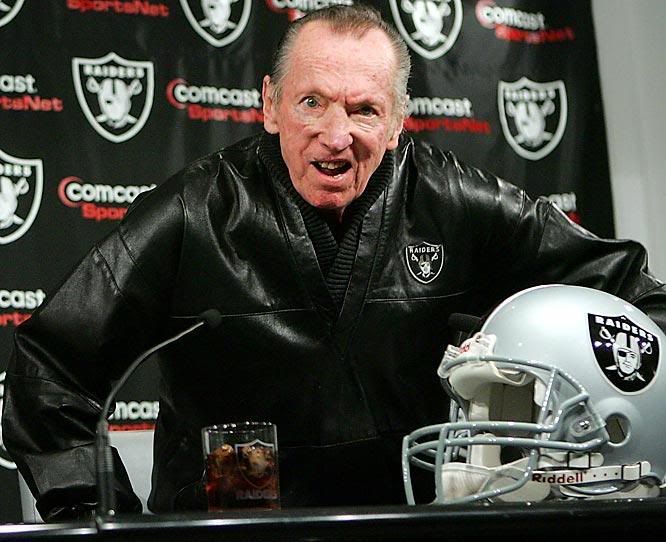 Now that is one angry man, that Al Davis! Yesterday afternoon the Owner of the Oakland Raiders made a very public appearance shortly after firing head coach Lane Kiffin and replacing him with Offensive Line Coach Tom Cable. While Davis mentioned lies and distrust at the main reasons for Kiffin's dismissal, one has to ponder the deeper roots (no pun intended) of the issue: Al Davis's MAGIC HAIR!
As Crazy Al gets older and older, he never loses that infamous "luster" with his jet black, slicked-back hair. These days a touch of silver has been added to the sides so that Davis's hair is clearly displaying the silver and black, Raiders team colors. While a good portion of his hair has fallen out over the years, Davis still uses the same 200-gram aerosol can of Armorall Wheel Protectant each day - 2 coats after his morning shower, 2 more just before arriving at work, 2 at lunch, 2 before dinner and one final coat before bed just for good luck!
While his decision not to bring chunkster Art Shell back for a third tenure with the organization was a good one, the jury is still out on former Idaho Head Coach and long-time NFL assistant Cable, who has the same amount of NFL head coaching experience Kiffin had prior to taking the same post (none). Aside from the magnitude and magnetism of Mr. Davis's hair, the other surprising move of the day came when Kiffin was dismissed for cause (conduct detrimental to the team) and therefore his termination came with no further payments from the team. This issue will surely be settled with NFL arbitrators but in a similar move in the 1980s, Davis fired now Broncos Head Coach Mike Shanahan and to this day Shanny is still yet to receive what he is owed for the remainder of his Raiders contract.
That all being said, Al Davis is this week's RV99 Hair of the Week winner and for his excellence in grease and Armorall use, this bud's for you, Al!